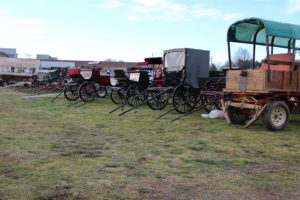 Tack, Equipment and Carraige Consignments
We always have thousands of tack, harnesses, saddles, and equipment consignments to sell. We begin selling Friday morning at 8:00am in multiple arenas. Plan to come early and preview consignments prior to the auction.
We begin selling carriages, trailers and larger implements on Friday at 11:00am.
How to Consign items:
Bring your items to the Fairgrounds on Wednesday & Thursday between 9am – 7pm and our auction staff will check-in and tag your items.  
Commission (per lot)
15% on first $1,000.00
10% on $1,001.00 and up
Minimum: $3.00
No sale 8% (maximum no sale commission is $50.00)